The Maine Forest Service and UMaine's Cooperative Forestry Research Unit continue to work together to gather L2 sampling data, relying on our industry partners for collection of branch samples. This is a coordinated effort between northern Maine landowners and managers, the MFS, and the CFRU.
The Spruce Budworm Lab, located at the University of Maine (5726 Environmental Lab, Orono, ME 04469), now processes the L2 sampling collected by cooperators. If you are dropping off samples after hours, there are large bins designated for holding the bags overnight. Questions? Email sprucebudworm@maine.edu
Maine L2 Sampling Protocol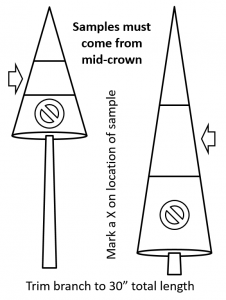 It is critical the L2 samples come from the mid-crown of the tree. Anything lower on the tree will be an inaccurate estimate of L2 numbers. In addition, the video above demonstrates how to collect and package L2 samples.
See our most recent map of L2 survey results and view the update on L2 sampling from January of 2021.