Maps of L2 Survey Results
The Cooperative Forestry Research Unit (CFRU) program at UMaine's Center for Research on Sustainable Forests (CRSF) is co-leading research efforts aimed at assessing L2 (second in-star larvae) numbers on private and state lands in Maine with the Maine Forest Service (MFS). L2 surveys are a useful method for monitoring populations of spruce budworm.

The 2022 spruce budworm L2 survey is complete.
Background
Beginning in 2017 current-year defoliation was quantified using the Fettes Method on a subset of MFS-sampled L2 sites and additional sites in northern Maine. This method provides a systematic approach to measuring defoliation.  It was employed during the last budworm outbreak in Maine, and is currently in use in Quebec. Maine Forest Service staff received training on implementing the method in a July 2016 field training held in the Matapedia Valley in Quebec.  The Fettes Method captures defoliation from all causes and can be used to estimate both current-year defoliation and cumulative defoliation.  A brief introduction to the Fettes Method is provided here. In 2021, via funding support from the Cooperative Forestry Research Unit and US Forest Service, a Spruce Budworm Lab was founded at the University of Maine to help state landowners monitor their trees for the presence of the destructive eastern spruce budworm, a key step in tracking and mitigating a developing outbreak that could have severe impacts on Maine's forest land and economy. Angela Mech, UMaine assistant professor of forest entomology, heads the lab, where a research team led by lab manager James Stewart tests branches collected from sites across Maine for the presence of spruce budworm larvae.
---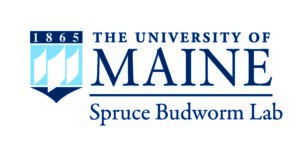 Dr. Angela Mech, University of Maine Assistant Professor of Forest Entomology, is the lead coordinator for the CFRU's L2 population/defoliation survey and head of UMaine's Spruce Budworm Lab.
Contact: angela.mech@maine.edu, office 207-581-2984.
Prior update 2021: A total of 309 spruce budworm larvae were identified from 328 sites, up from last year's 70 larvae at 317 sites. Last year's follow-up survey, done in response to feedback from the CFS lab that our samples were coming from too low on the tree, revealed substantial under-estimates at several sites and only minor under-estimates at others. Feedback from the lab this year was very positive; only a handful of branches appeared to come from the lower canopy. It is possible that surveys in past years underestimated the population in Maine, and that this year's increase is only partly due to a bona fide increase in budworm population. The good news is that only one site in the monitoring network is above 4.66 L2 per branch this year, and the population on small private landowners in the St. John Valley has not grown from last year.  Unfortunately, at least one bag of samples was not able to be sampled, this map includes 22 sites apparently affected by this loss, and it is hoped those sites will be re-visited in spring 2021 for new samples.
Maps of Survey Results: 2014-2021