2021 marked the first year of the current spruce budworm population build-up that aerial surveys were able to detect larval feeding damage and the second year that appreciable feeding damage was detectable during ground surveys. Despite this, average spruce budworm moth capture across Maine has dropped for the second consecutive monitoring season. Results of the CFRU-led L2 survey are forthcoming and will help to shed additional light on Maine's spruce budworm situation heading into 2022."

Michael Parisio, Entomologist with the Maine Forest Service
The Maine Forest Service has released their 2021 Spruce Budworm Monitoring Report. This comprehensive document communicates spruce budworm populations through a variety of surveys and detection methods.
Populations of adult moths have steadily decreased since 2019, after large in-flights of moths into northern Maine were well-documented in 2019 from neighboring Canadian provinces that have been in a spruce budworm outbreak for years. These are quantified through pheromone trapping, a method of insect monitoring used in Maine and elsewhere. Spruce budworm moths are drawn to a pheromone baited bucket trap located in a stand of spruce and fir. Traps are collected at the end of the season, usually in October, and the moths are counted and reported.
Spruce budworm larvae populations have been fluctuating but increasing since 2019. Spruce budworm larvae can defoliate, damage, and over a number of years, kill spruce and fir trees. In 2021, feeding damage on the trees could be seen from aerial surveys conducted by the Maine Forest Service, a first in a number of years.
"Hotspots" are defined as areas where the number of overwintering budworm larvae exceed 7 per branch. In 2020, a monitoring site in Cross Lake Township averaged 7.6 larvae per branch. Following our Canadian counterparts' methods on Early Intervention Strategy or EIS, the landowner, JD Irving, responded with targeted treatments that are detailed in this report. EIS differs from controls used in the past for spruce budworm by targeting small areas with relatively low, but growing populations, as opposed to broad scale treatments with high populations. This was the first year since the 1980s that required targeted aerial treatments for spruce budworm. More data on 2021 overwintering spruce budworm larvae (L2) will be available soon from the Spruce Budworm Lab.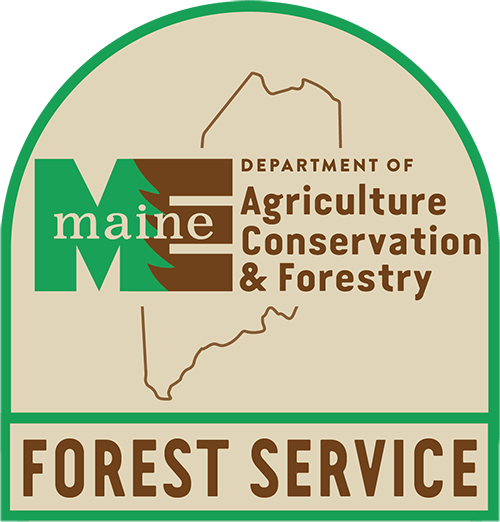 Read the full Maine Forest Service Report
Spruce Budworm in Maine 2021 (PDF of full report; 16 pages)